22/03/2016 - Great to hear from Pete Pollard again and this time he really has come up with a gem! He has found an old double sided acetate demo 45 recorded by Lee Lynch & The Blue Angels back in the early sixties. It was done in one take with no mix down - that's all new bands needing a demo could afford in those days. I'd certainly never heard them before and I'm sure you won't have - so why not have a listen below? The quality is not the best (as you might imagine) and there is a jump in "Gotta Know" unfortunately, but it's a great piece of memorabilia just the same so thanks a million Pete - you are a star!

Gotta Know - Lee Lynch & The Blue Angels.mp3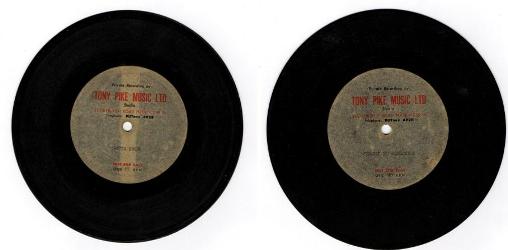 Forgot To Remember - Lee Lynch & The Blue Angels.mp3
17/02/2016 - It was great to hear from Pete Pollard recently. Pete was lead guitarist for "The Blue Angels" back in the sixties and he shared some great memories with me. Last year, Chris (bass guitar), Mike (drums) and Pete met up and this photograph was taken - that's Pete on the right. Great to see the entire Blue Angels rhythm section back together again gents! I'm also extremely grateful to Pete for supplying the two pictures beneath - some very rare photos of "The Lynchmen", the predecessors to "The Blue Angels". Thank you Pete.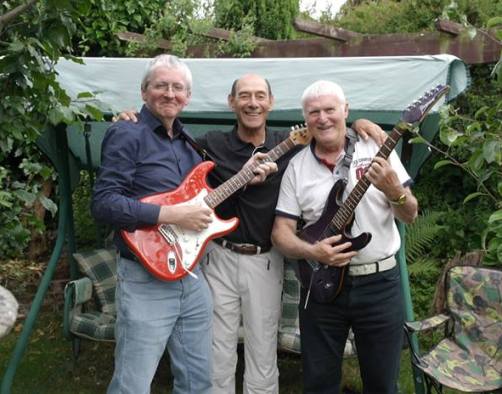 Gerry Devlin Writes:

As part of the Ballinasloe August Homecoming we will unveil a plaque in St Brendans Terrace in memory of Lee Lynch. Even though we have commissioned the plaque and will put it up, his old community (famous for their street parties) then takes over and intends having a street party (2pm Saturday 24th August 2013). Lee's sister in law Helen Lynch, who still lives in St Brendans will be doing the unveiling.

Lee (or Liam Lynch and sometimes called Jessie) was born in 1937. He attended St Grellan's National School until he was 14 years of age. Afterwards he worked his way down Main Street before in his own words "riding out of town". No doubt he got this expression from the many cowboy films he went to and which he loved. He worked in Duane's Chemist, Salter's Shoes, John Wood's and finally as a Telegram Boy in the old Post Office.

If you have time to spare you could do worse than log on to Ballinasloe.com and go to the discussion forum. Under the heading "Do You Remember?", Lee recounts some of his memories of growing up in the town. It is a wonderful trip down memory lane as he talks about his school days and the characters he knew. Some are funny and some are sad, but they all reveal a man who had a happy childhood in town.

He always boasted that his first big break came when he was only a teenager. He admits it was only on top of a stone pillar under a street light in Ballinasloe. We will be unveiling a plaque in memory of the great Lee on Saturday 24th August during our Homecoming. That is just beside that stone pillar where Lee had his first "big break".

Lee never forgot his routes and if he heard someone from Ballinasloe was in the audience he would make it his business to announce it from the stage and make them feel especially welcome. Lee's first "big break" was never forgotten in his home town, as Ballinasloe history will tell. Whenever he returned home to play a gig they were always a sell out. He has the envious reputation of playing to a "packed house" seven nights during Ballinasloe's Great October Fair, which has never been surpassed.

He told me that my grand aunt was his first critic when he sang on that pillar. When she asked who was singing on the pillar she was told Liam (Lee) Lynch. She then said, "Tell him I said he's a great feckin' singer".


Lee Lynch sadly passed away on 22nd July 2012. "The Lee Lynch Story", a four part series of 30 minutes shows presented by Lee's son Phil, will be broadcast on Irish Country Music Radio at midnight each Friday between 30th November and 21st December 2012.
On 20th October 2012, Phil and his daughter Tilly were proud to accept a posthumous award in Lee's memory at the 25th Anniversary Irish World Awards at The Novotel in London.